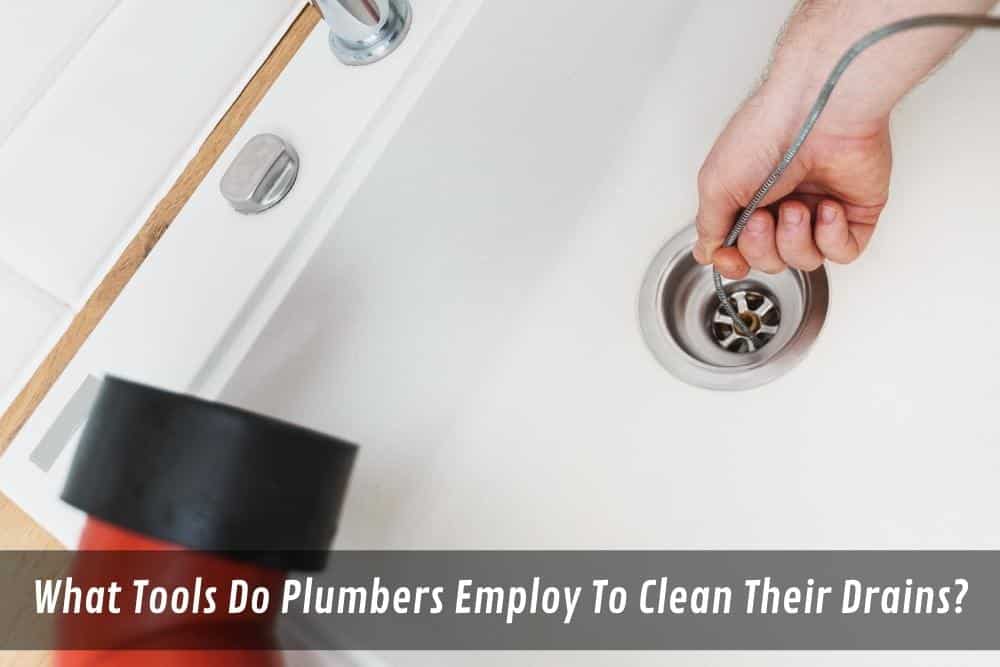 Have you ever wondered what plumbers tools are used to clear clogged drains? Drains are an essential aspect of homes, and it's crucial to keep them clean to avoid clogging and other plumbing issues. 
Clogged drains are a common problem in households, and many homeowners resort to using chemical drain cleaners to address the issue. However, these cleaners can be harmful to both the pipes and the environment. Plumbers, on the other hand, use a variety of tools to clean drains safely and effectively without causing any damage.
If you're experiencing a drainage problem, it's best to hire a professional plumber to handle the issue. But before you do so, familiarise yourself with the plumbers tools and techniques they use to clean drains. From plungers to drain snakes, plumbers have an array of devices at their disposal, and in this article, we'll take a closer look at some of the most commonly used ones.
What are the essential plumbers tools?
The most essential plumbers tools are plungers. These simple devices can be used to dislodge blockages in pipes and drains, such as hair and debris. Plungers come in different sizes and shapes, so it's important to choose one that fits the size of your drain or pipe. It's also important to use the right amount of force when plunging so you don't cause any damage to your plumbing system.

Another common plumbers tools are professional drain cleaner. These cleaners are made with high pressure drain cleaning or spinning blades that cut through tough clogs. They are powerful enough to unclog even the toughest drains, but they should only be used after attempting other methods first.

If the clog is deep down in the pipes,

a CCTV drain inspection camera may be used to inspect

and identify the issue. Plumbers will use these cameras to find out where exactly the clog is located so they can take appropriate action.

In some cases, plumbers may also need to use drain cleaning tools. Such as augers and snakes to remove tree roots or other blockages in drains. Augers are long cables with blades on one end that can be used to cut away obstructions. Snakes, on the other hand, are flexible rods with corkscrews that can be inserted into pipes to break up clogs.

Finally, plumbers may also resort to using boiling water or baking soda to dissolve tough clogs. Boiling water is more effective for small blockages, while baking soda should be used when dealing with large blockages.
No matter the cause of a clogged drain, it can be a nuisance to deal with. Thankfully, there are a variety of plumbers tools that can use to unclog drains and keep them clean. From plungers and professional drain cleaners to CCTV cameras and augers, these tools can help solve any plumbing problem in no time.
What are some suitable drain cleaning tools for a specific plumbing job?
When it comes to cleaning drains, the best approach is to use the right tool for the job. Plungers are great for small blockages and other debris. Professional drain cleaners with high-pressure jets or spinning blades can be used to cut through tougher clogs. CCTV drain cameras are ideal for locating deep-down blockages so you can take action quickly. Augers and snakes are useful for removing tree roots and other obstructions in pipes. Boiling water or baking soda may also be used to dissolve tough clogs in some cases.
If you're out of your depth dealing with a plumbing problem, it's best to seek professional help from a qualified plumber. They will be able to identify the issue and use the right drain blockage tools to unclog your drains safely. You'll also be able to buy the necessary plumbing tools from any hardware store.
What are the drain maintenance tips for preventing clogs?
The best way to prevent clogged drains is to practice regular drain maintenance. Here are a few tips that you can use to help keep your drains clear:
Don't flush anything other than toilet paper and human waste down the toilet. This includes wipes, cotton swabs, and feminine hygiene products.

Dispose of grease, fats, and oils in the trash instead of your sink or toilet.

Remove hair from your shower or sink drain regularly. By using a pair of pliers or a brush to catch any stray strands before they get washed down the drain.

Install mesh screens on all drains to catch food particles and other small debris before they enter the plumbing system.

Run hot water through the sink and tub drains once a week to help break up any grease or soap residue.

Use ultra-high-pressure water jets to deep clean your drains periodically.
By following these tips, you can reduce the chances of clogged drains in your home. Regular drain maintenance will also help you spot any potential issues early on so they can be addressed before they become serious problems.
All in all, there are types of drain unblocking tools that plumbers use to clean and unclog. The best way to unclog a drain is to use the right instrument for the job and practice regular maintenance to prevent future blockages. DIY drain cleaning tools can also be purchased from any hardware store. But, if you don't feel confident in tackling the issue yourself, it's best to hire a professional plumber to ensure that the job is done right.
Contact Emergency Plumbers today to find out more about our drain cleaning services. Our team of experts can help you unclog your drains and keep them clean.